Yoga Q & A: A little of this and a little of that, all yoga related and all aimed at empowering your own practice wherever you are
---
The following question came via email from one of my students/friends/yoga teachers. Hope it helps you out!
Slipping Down The Wall Doing L Pose At The Wall
Dear Elsie,

I was doing class 92 and my feet just kept sliding down the wall. I know I am strong enough. I know I got the energy right, but the wall is very smooth like a sliding board.

I was able to do it in the yoga studio Thursday, but I had my 5-finger running shoes on which gave me some traction.

I plan to teach this pose on Sunday morning.

What can I do if students slide down???

Thanks sweet love,

Janet
Get Your Heart Open and Lengthen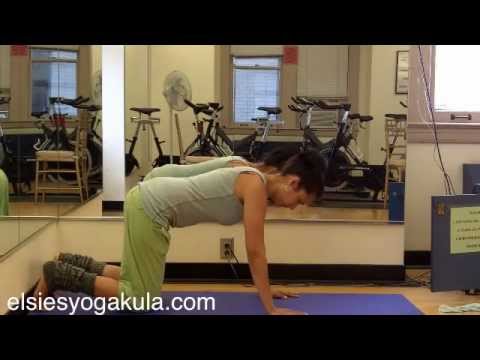 Let's start with some out of our control logistics first that make you slip so much in yoga!: sweaty feet and/or slippery wall. Here are some things you can do to deal with slipping all over the place in yoga.
Alignment/Action in the body in Handstand Prep aka L Pose at the wall
Make sure that you open the shoulders as much as you can before getting to L pose
Let your warm-up portion of your practice include lots of shoulder openers
Use every posture, particularly downward facing dog to work on optimally opening the shoulders via shoulder loop. (side body long, head of the arm bone back, shoulder blades flat on the back, expand)
Key actions in Downward Dog: press the hand down, lift the arm pits up, let the heart soften right in between the shoulder blades.
In addition to the shoulders in L pose, inner spiral (all three actions: thighs in, back and apart) again in down dog do wonders for taking the pressure off the downward momentum when moving into L pose.
Being able to keep the heart open and the lower back/hips spacious can make walking up the wall much easier.
When there is less mobility in those areas, particularly in the transition into the pose, you have to work much harder with the legs (and arms).
Working into L Pose at the Wall:
Do a full, powerful Downward Facing Dog to prep.
Variation: put heels on the wall and really work shoulder loop and inner spiral. Get that bum up!
(FOR TEACHERS ONLY) Make sure students get that feeling in their body. Ask questions, pay attention, and try something else, if you feel they haven't quite go it.
(FOR TEACHERS ONLY) Draw attention to how high their bum is in Downward Dog (make sure THEY see/feel how far off the ground their bum is) and that when moving to L pose it should be that high, even while transitioning up.
Heart to the wall, bum up to the sky at the same time
Something that I do to give another perspective in going up the wall, especially regarding the slippage, and giving those that are having a hard time getting up, is to also teach L pose at the wall with headstand arms (no head on the floor) Following is a video of that: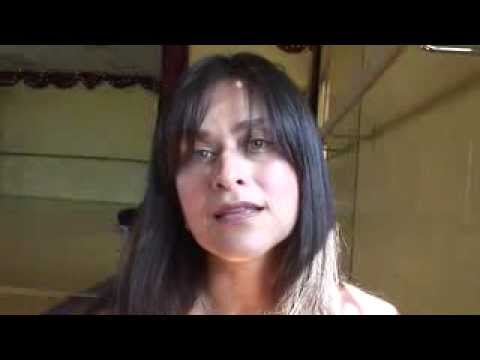 Sometimes I find that doing that pose will get people up the wall with less slippage. Some can actually do it!
This is a great teaching tool to feel the pose, as well recognize that (for some) it's not the slipperiness of the wall but how open other parts of the body are.
So what did you guys think?
Do you have a hard time doing L Pose at the wall because you slip down? Let me know your thoughts!
---
Image credit via CC slip carefully